Thursday 9th November was World Usability Day and Irish design company Frontend.com celebrated by scooping top honours at the prestigious UX Awards Summit in Palo Alto, CA. beating stiff competition from around the globe.
The UX Awards are 'The Oscars' for digital experience design and Frontend.com won the Grand Prize for their work on the Future Vision of Migrant Health Care.  The project was carried out in collaboration with the UN International Organisation for Migration (IOM) and also involved students from multiple third level institutions in Ireland.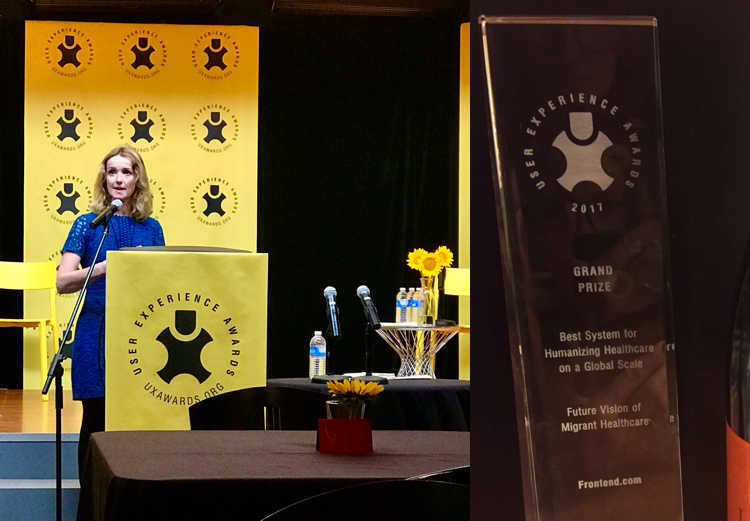 Inspired by the Syrian migrant crisis, the solution explores ways in which technology can help overcome the many challenges facing vulnerable people during their journey. Issues such as language and literacy are addressed, as well as ways to provide remote health consultations with doctors who can volunteer their time from anywhere in the world.
"For months we were seeing distressing images on TV documenting the plight of migrants and we started asking ourselves, as designers, what we could do to help" said Frank Long Director of Frontend.com. "We reached out to the IOM who highlighted migrant healthcare as a major challenge, our goal was to demonstrate a better way to meet the needs of everyone involved"
"The project focused on reimagining how IOM and other humanitarian agencies could provide healthcare to those in their care, particularly migrants and refugees on the move. The design team were cognisant of evolving challenges facing migrants and refugees and the agencies on the ground providing them with much needed assistance," said IOM spokesperson Itayi Viriri. He added, "The concept tapped into recurring themes of increased information requirements and the potential of mobile technology as a means of connecting with those in need of real medical help."
The next big step and challenge is turning the concept into reality, Viriri added.
"It has been amazing, as a design team, to see the human effect of this work and to have it recognized by our industry peers is particularly special and humbling. It is such an honour to represent Irish design on the world stage, and to be involved with an organisation who are trying to solve such worthwhile human problems," said Long
For more please go to: https://userexperienceawards.com/2017-submissions/future-vision-of-migrant-healthcare/ watch this video: https://vimeo.com/226737848 or visit www.frontend.com/futurevision/
About Frontend.com
Established in 1998, Frontend.com is one of the most established UX design houses in Europe. Based in the Silicon Docks area of Dublin, the team specialises in international, complex challenges and works with some of the biggest companies in the world to understand their customers, identify their business' needs, and create excellent digital and experiential solutions that affect the lives of millions of people around the world.